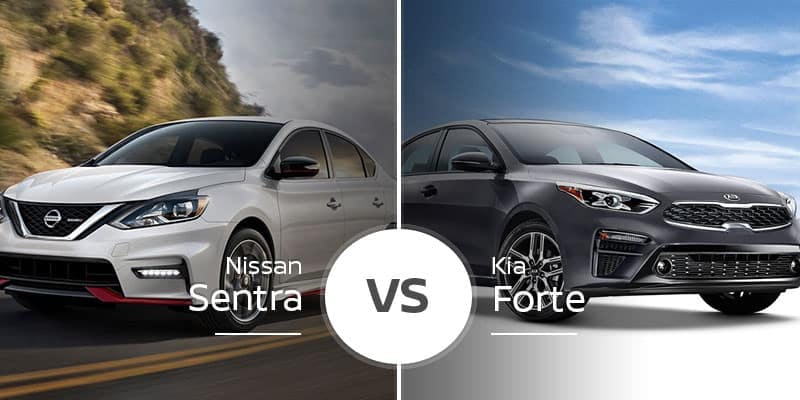 Why the Kia Forte Outshines the Nissan Sentra
While both the Kia Forte and Nissan Sentra are worthy contenders in the compact sedan segment, there are several reasons why the Kia Forte stands out and can be considered a better choice. Let's delve into the details:
Design and Styling: The Kia Forte boasts a sleek and modern exterior design that exudes a sporty and upscale appeal. With its sharp lines, sculpted body, and attention to detail, the Forte grabs attention wherever it goes. On the other hand, the Nissan Sentra, while stylish in its own right, adopts a more conservative design approach that may not stand out as much on the road. The Forte's overall aesthetic and attention-grabbing presence give it an edge in terms of visual appeal.
Interior Quality and Features: Step inside the Kia Forte, and you'll be greeted by a well-crafted cabin that showcases high-quality materials and attention to detail. The interior layout is ergonomic and user-friendly, with easily accessible controls and an intuitive infotainment system. The Forte offers an available 8-inch touchscreen display with features like Apple CarPlay and Android Auto integration, allowing seamless smartphone connectivity. While the Sentra provides similar features, the Forte's interior quality and technology integration give it an advantage in terms of overall refinement and convenience.
Performance and Efficiency: The Kia Forte offers a range of powertrain options that deliver both performance and efficiency. The available engines provide ample power for daily commuting and highway driving, and the Forte GT trim offers a turbocharged engine for those seeking a more spirited driving experience. The Forte's engines are known for their smooth and refined operation, while still delivering competitive fuel efficiency. While the Sentra offers respectable performance, the Forte's balance between power and efficiency makes it a more enticing option for enthusiasts and daily commuters alike.
Driving Dynamics: When it comes to handling and driving dynamics, the Kia Forte shines. Its well-tuned suspension strikes a balance between comfort and sportiness, offering a composed and enjoyable ride. The Forte feels nimble and responsive, making it fun to drive on twisty roads or in urban environments. In comparison, while the Sentra provides a comfortable ride, it may not offer the same level of agility and engagement as the Forte.
Safety Features: Both the Kia Forte and Nissan Sentra prioritize safety and offer advanced driver assistance systems. However, the Forte often comes equipped with more standard safety features across its trim levels. Kia's commitment to safety is evident in the Forte, as it includes driver aids such as forward collision warning, automatic emergency braking, lane departure warning, and lane-keeping assist as standard or available options. These advanced safety technologies provide peace of mind during daily commutes and long journeys.
Warranty: Kia is renowned for its industry-leading warranty coverage, and the Forte is no exception. It comes with an impressive 10-year/100,000-mile powertrain warranty, which surpasses Nissan's standard warranty offerings. This longer warranty period demonstrates Kia's confidence in the durability and reliability of their vehicles, giving Forte owners added reassurance.
In conclusion, while the Nissan Sentra has its merits, the Kia Forte outshines it in several aspects. From its striking design and upscale interior to its balanced performance, engaging driving dynamics, and generous warranty, the Forte offers a compelling package that stands above its competitors, including the Sentra.
Click Here to pick out your new Kia Forte today here at Diehl Kia of Massillon!
Back to Parent Page