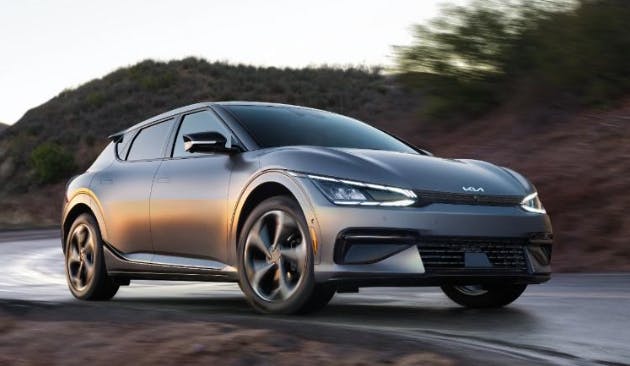 Your Guide to the 2023 Kia EV6
The 2023 Kia EV6 is an all-electric crossover SUV that promises to deliver impressive performance, technology, and range. As the first electric vehicle from Kia built on a dedicated EV platform, the EV6 represents a significant step forward for the automaker and the EV market.
Here's what you need to know about the 2023 Kia EV6:
Design
The design of the EV6 is both futuristic and sleek, with a sporty silhouette and minimalistic styling. The vehicle's long wheelbase and short overhangs give it a muscular stance, while the sculpted lines and LED lighting create a dynamic look.
Interior
It offers a spacious and modern cabin with a focus on technology and comfort. The dashboard is dominated by a large, curved display screen that houses the infotainment system, while a second screen serves as the digital instrument cluster. The interior features high-quality materials and a range of amenities, including heated and ventilated seats, a panoramic sunroof, and a premium audio system.
Performance
The EV6 is available in both rear-wheel-drive and all-wheel-drive configurations, with a choice of two battery sizes: a 58 kWh battery that delivers up to 170 horsepower and 229 pound-feet of torque, and a larger 77.4 kWh battery that produces up to 300 horsepower and 446 pound-feet of torque. It can also accelerate from 0 to 60 mph in as little as 5.1 seconds, making it one of the fastest electric SUVs on the market.
Range
With its larger battery option, it is capable of traveling up to 300 miles on a single charge, putting it in the same league as other top-performing electric vehicles like the Tesla Model Y and Ford Mustang Mach-E. The vehicle also supports fast charging, with the ability to recharge up to 80% of its battery in just 18 minutes.
Safety and Technology
The Kia EV6 comes equipped with a range of advanced safety features, including forward collision warning, automatic emergency braking, lane departure warning, and adaptive cruise control. It also features a range of driver-assisted technologies, such as blind-spot monitoring and rear cross-traffic alert.
The EV6 also offers a range of innovative technologies, including a 14-speaker Meridian audio system, a 360-degree camera system, and an augmented reality heads-up display that projects important information onto the windshield.
Conclusion
Overall, the 2023 Kia EV6 promises to be a formidable contender in the electric SUV market. With its combination of impressive performance, advanced technology, and long-range capabilities, the EV6 is sure to be a hit with both EV enthusiasts and mainstream car buyers alike. Visit Diehl Kia of Massillon to take a look at Kia's first electric vehicle!
Back to Parent Page