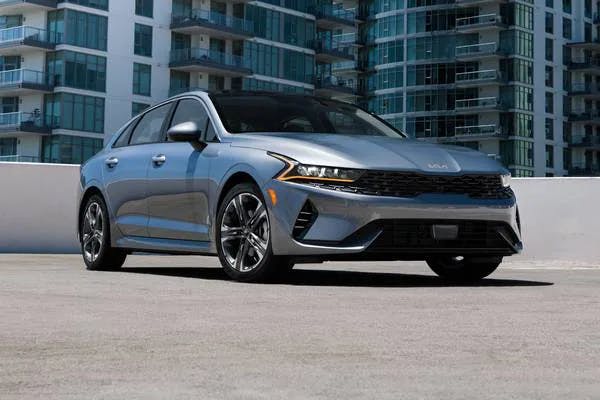 The Kia K5 Redefines the Midsize Sedan Experience
In the ever-evolving automotive landscape, Kia has proven time and again that it is more than capable of challenging established notions and surpassing expectations. A shining testament to their commitment to excellence is the Kia K5, a midsize sedan that effortlessly combines style, performance, and innovation. Let's delve into the remarkable features and characteristics that make the Kia K5 a standout choice in its segment.
Striking Design: The Kia K5 boasts a design that is sure to turn heads. Its sleek and aerodynamic profile is accentuated by a bold and dynamic front grille, sculpted lines, and available LED headlights. From every angle, the K5 exudes a sense of modernity and sophistication, setting it apart from its competitors.
Dynamic Performance: Under the hood, the Kia K5 offers a range of powerful and efficient engine options to suit different driving preferences. From the spirited 1.6-liter turbocharged engine to the exhilarating 2.5-liter turbocharged engine, the K5 delivers impressive performance and responsiveness. Whether you're navigating city streets or embarking on a thrilling highway journey, the K5 provides a thrilling driving experience.
Advanced Technology: The Kia K5 comes equipped with a plethora of cutting-edge technology features that enhance convenience, connectivity, and safety. The intuitive infotainment system, with an available 10.25-inch touchscreen display, offers seamless integration with your smartphone through Apple CarPlay and Android Auto. Additionally, advanced driver-assistance systems, such as forward collision avoidance, lane-keeping assist, and blind-spot collision avoidance, provide an extra layer of confidence and peace of mind on the road.
Comfortable and Refined Interior: Step inside the Kia K5, and you'll be greeted by a thoughtfully designed cabin that prioritizes comfort and refinement. The available leather seating surfaces, ambient lighting, and ergonomically placed controls create an inviting atmosphere. With ample legroom and headroom, both front and rear passengers can enjoy a relaxed and enjoyable ride. The K5 also offers an impressive cargo capacity, ensuring you have all the space you need for your belongings.
Enhanced Driving Dynamics: The Kia K5 features an advanced suspension system and precise steering, resulting in exceptional handling and a smooth, controlled ride. Whether you're tackling winding roads or cruising on the highway, the K5 instills confidence with its responsive and engaging driving dynamics. Additionally, the available all-wheel-drive system further enhances traction and stability, making it an ideal companion for various weather conditions.
The Kia K5 is a remarkable midsize sedan that leaves a lasting impression with its stunning design, exhilarating performance, and advanced technology. With its blend of style, comfort, and innovation, the K5 sets a new standard for the segment, providing a driving experience that is both enjoyable and rewarding. Whether you're seeking a stylish commuter or a versatile family car, the Kia K5 proves to be a compelling choice. So, unleash your excitement and embrace the journey with the Kia K5.
Click Here to pick out your all-new Kia K5 here at Diehl Kia of Massillon!
Back to Parent Page